Choosing a Manufacturer for Your Remote Patient Monitoring Device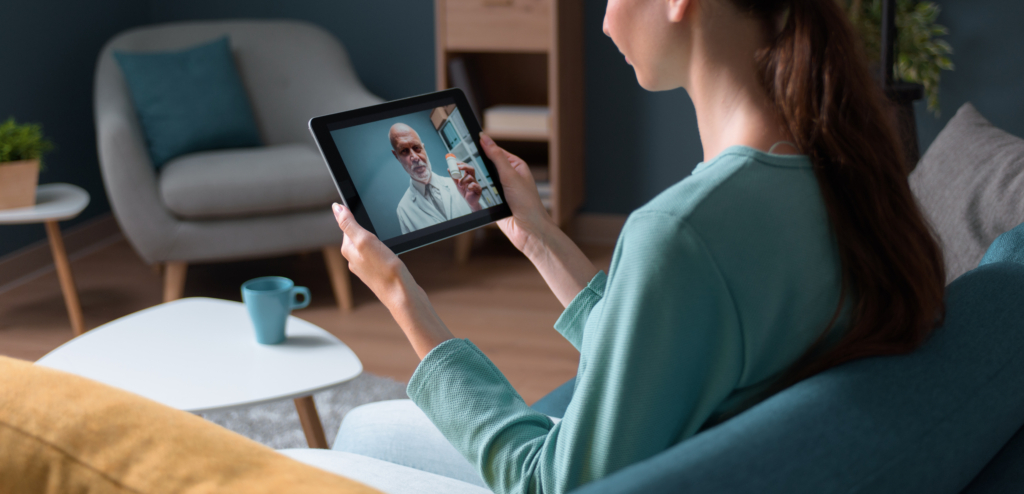 Healthcare has gone digital.  
90% of healthcare providers have reported changes in their organizations due to the COVID-19 pandemic. Around 30% of providers say that digital patient engagement is commonplace these days. And the same providers believe that up to 60% of patient interactions will happen digitally by 2027. 
These statistics hint at the increasing importance of remote patient monitoring (RPM) devices. RPM is making it easier than ever for healthcare providers to collect patient data and provide adequate care from a distance.  
But how do you choose the right manufacturer for your remote patient monitoring solution? We delve into the different considerations that any healthcare organization should look at. 
What Are Remote Patient Monitoring Devices?
Remote patient monitoring devices have many functions, but their main purpose is to enable healthcare providers' collection of patient data. They can then analyze this information about their patient's health, often in real-time. 
Patients will typically receive wearable or handheld devices such as smartphones or tablets. They then input their health data into these devices, and the data is transmitted to a provider. The physician can then use this information to analyze results and update treatment plans accordingly. 
The type of health information physicians can collect with patient monitoring solutions includes vital signs and blood pressure readings. You could also gather data about activities of daily living (ADLs), chronic disease symptoms, and weight. 
Benefits of Remote Patient Monitoring Systems
The main benefit of a remote patient monitoring solution is that you can collect and analyze patient data from afar. But this isn't the only advantage these systems can offer. Additional benefits of remote monitoring solutions include: 
Improving the quality of care you provide

 

Reducing in-person patient monitoring costs

 

Freeing up hospital bed space for emergency and critical care patients

 

Removing patient/provider communication barriers

 

Decreasing rates of provider and nurse burnout

 
Studies have also shown that RPMs can boost patient engagement to up to 80% and patient compliance to up to 72.5%. RPMs have helped hospitals reduce readmission rates and even improve COVID-19 success rates. 
A Kaiser Permanente study found that 94% of patients using RPMs were satisfied with the quality of care they received. This statistic points to the fact that patient satisfaction increases with the use of RPMs. 
What to Look for in Remote Patient Monitoring Systems
Remote patient monitoring companies and solutions come in many forms. Some of the more popular types of RPM devices include: 
Blood pressure and heart rate monitors

 

Continuous glucose monitoring devices

 

Electrocardiographs (ECGs)

 

Medical alert wearables (e.g., elderly fall devices)

 

Smart scales

 

Medication monitoring apps and intelligent pill dispensers

 
Devices known as patient wearables are unique because they can do all the above functions and more. And organizations can track and analyze the data recorded on these devices from convenient remote patient monitoring platforms.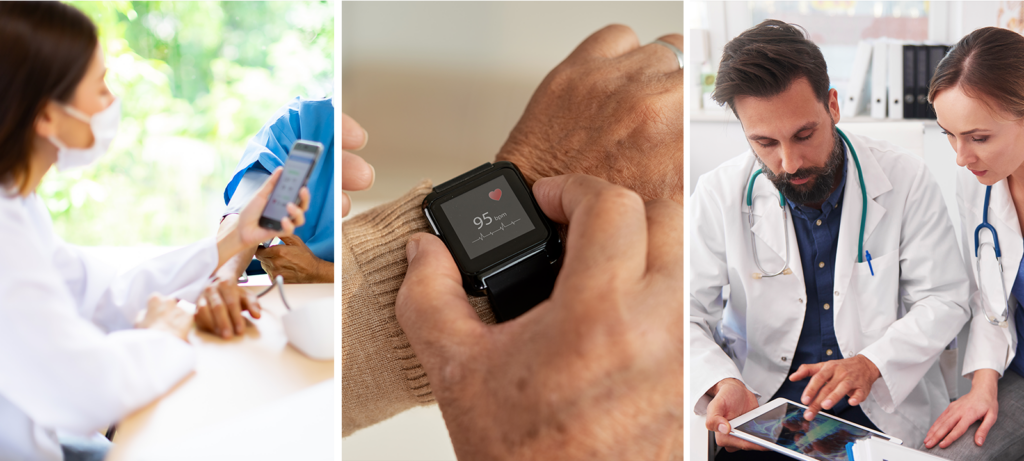 But what sets one remote patient monitoring manufacturer above the rest? We are detailing the most critical qualities of RPMs for healthcare providers below. 
Security 
Did you know that a single HIPAA violation can cost your organization up to $1.5 million in fines? And these fines do not only apply to your physical patient health information (PHI). You can also get fines for electronic PHI breaches. 
This is why it is so important to choose remote patient monitoring devices that are fully secure. What is more, you need continuous security protection to ensure HIPAA compliance for the duration of the device's lifetime. 
Our RHINO T8 tablet is ioXt certified, meaning it meets the requirements of a global standard for product security.
More on the RHINO T8 enterprise tablet
 
Device Management 
You have hundreds or maybe thousands of patients, so you will need just as many remote monitoring devices. But how do you ensure that your devices operate the same for each patient? 
Enterprise Mobility Management (EMM) solves this problem. Instead of requiring patients to set up the device settings, you can define them across all devices for them. Additionally, you can pre-load security and device policies for individual users or patient groups. 
Our preferred EMM partner, Mambo, is a complete device management solution for all RHINO Mobility devices and any Android device on the market today.  
Learn more about Mambo Mobility 
Affordability 
Remote patient monitoring equipment is supposed to help you cut costs, not increase them. So, the vendor you choose should offer solutions that won't cost an arm and a leg. But exactly how much should RPM devices cost your organization? 
A 2021 study looked at the cost of RPM implementation for a type 2 diabetes management primary care program. The study showed that each patient's devices cost an estimated $3,207. This cost was spread across a three-month timeline, equating to about $21–$29 per day per patient. 
A custom enterprise mobility solution can significantly reduce the cost of your RPM device deployment. Everything from the hardware design, component selection, staging, kitting, and delivery – all factor into the total cost of ownership. Social Mobile can handle all these processes and consolidate multiple vendors (and costs) into one, saving up to 40% on average. 
Availability 
One of the largest barriers to RPM engagement is unreliable technology. And one of the highest unnecessary costs to providers using RPM devices is the effort required to procure and maintain them. 
But when you work with the right remote patient monitoring device companies, your product lifecycle should be guaranteed for a minimum of 3 years, or up to 5 years if possible. That way, you will never have to worry about your product inventory being at risk or unavailable. 
This ensures that your organization is relying on the same RPM solution, and that you can provide consistent care to your patients for as long as possible..  
Customizability 
Every healthcare organization is unique, and you need a bespoke RPM solution to match. Yet, most remote patient monitoring manufacturers only provide off-the-shelf solutions. 
Don't get us wrong, out-of-the-box devices can work for some organizations. But most need a custom device pre-loaded with all the features your patients will need and love. 
Our Private Label Custom Solutions for Healthcare
At Social Mobile, we provide custom hardware manufacturing for our healthcare industry clients. We can help you design a remote patient monitoring system from the ground up, incorporating exactly and only what you need. 
Our services include everything from hardware and software configuration to packaging design. Learn more below about the type of devices Social Mobile can help you create. 
Tablets and Smartphones
Tablets and smartphones are quickly becoming the best way to manage patient data, whether in person or remotely. With our medical-grade smartphones and tablets, you can pair your staff's devices with your patients' wearables. 
You can also offer pre-configured tablets and smartphones to your patients. They can use these devices to log health information. Then, patients can securely transmit this data to their providers. 
A 2021 study looked at the impact of tablets and smartphones on patients' medical decisions. The study found that these devices can and do help patients make choices about treating their conditions and illnesses. 
Wearables
Insider Intelligence estimates that 27.2% of the US population (93.7 million people) will use wearable technology by 2025. Already, around 82.7 million US adults report using one or more wearables, including: 
Smart health watches

 

Fitness tracking watches

 

Smart ECG monitors

Blood pressure devices

Biosensors

 
Wearables allow patients to take control of their health and wellness. Plus, these devices are invaluable when it comes to boosting preventive medicine and wellness delivery. 
Our Custom Wearable Platform gives clients the flexibility to create customized wearables with a wide range of features and designs, allowing for rapid development of wearables for various use cases and applications. 
Learn more about our custom healthcare wearables
Why Social Mobile Is the Remote Patient Monitoring Solutions Provider You Need
Remote patient monitoring devices are the future of the healthcare industry. They can help you track patient data from afar, cutting overhead costs and improving patient outcomes at the same time.  
Are you searching for a custom RPM system? At Social Mobile, we don't just offer private label manufacturing services. We also provide Mambo, an enterprise mobility management (EMM) platform, as well as managed services for all your custom devices. 
We're ready to manufacture and support the remote patient monitoring solution you need. Contact us to get started today! 
GET A QUOTE.
Let's start designing your custom enterprise mobility solution.
Healthcare Mobility Use Cases