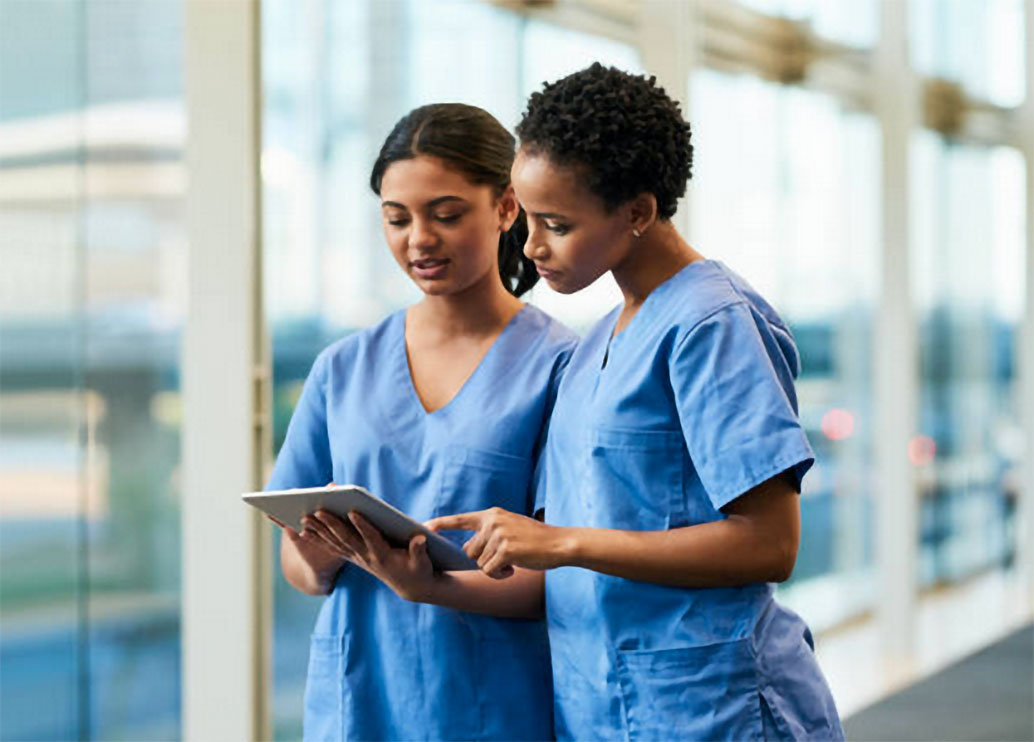 How Enterprise Mobility is Enabling the Patient Experience Across Healthcare
Among the many challenges the healthcare ecosystem is confronted with – everything from the ripple effect of COVID, personnel shortages, high costs of care, and delivering the best patient experience – there is a huge opportunity for technology to redefine the patient and healthcare experience, especially through custom mobility solutions.
Typically, enterprises will deploy consumer-grade devices to meet their needs; however, consumer tablets, smartphones, and wearables don't meet the regulatory and technology requirements of the healthcare industry. Running a healthcare business is difficult enough without the challenges of procuring, managing, and deploying the hardware needed to operate.
Custom mobility devices and solutions are the answer.
I know what you are thinking. Custom means expensive. Especially when cheaper, consumer devices seem to be readily available. However, if you look at the total cost of ownership of a consumer device over a three-year lifespan, it is always significantly more expensive to purchase, manage and support a consumer-device than it is to create your own custom enterprise mobility solution. Key considerations that impact the total cost of ownership for any mobile solution are security, privacy, ease-of-use, deployment strategy, and device management, in addition to sourcing, procurement, and supply chain logistics.
Enterprise solutions secured and managed with Android Enterprise make it easier than ever to customize apps, protect business-critical data, and manage patient care devices. Recently, Google commissioned Forrester Consulting to investigate just how effective Android Enterprise is at helping organizations achieve their digital transformation goals, reducing costs and improving business outcomes. Forrester's research found that utilizing Android Enterprise resulted in $1.1 million in extra revenue from higher customer retention over three years, a 32% reduction in per-device spending for knowledge workers, and a 30% decrease in Android-related help desk calls.
Let's take a look at how leading healthcare facilities and hospitals in the United States and around the world are taking advantage of Android Enterprise-powered mobility.
Vaccination Tracking & Management
Healthcare organizations know just how complicated it is to administer vaccines. From knowing how many vials to order to tracking lot numbers and billing doses correctly, the inner workings of vaccine administration are cumbersome to say the least.
VaxCare, a major provider of vaccine management services, delivers an all-in-one system to manage the delivery of critical vaccines to patients. The VaxCare hub is a sleek 13-inch touchscreen with built-in scanners to allow for rapid, accurate input of vaccine data and patient information, mitigating data entry time and error. It integrates a downward facing camera to quickly capture barcodes and zero touch enrollment, allowing physicians to easily add applications and security profiles.
Available to VaxCare's 10,000-plus healthcare providers and practices, the VaxCare Hub has helped with the administration of 650,000-plus vaccines to-date. As a result, the VaxCare Hub has supported a 54% increase in vaccine rates, saved 35% of time spent on administrative paperwork such as billing, enabled an 80% faster time to market, decreased the total cost of ownership by 40%, and has significantly improved patient experiences through seamless vaccine administration.
In addition to vaccination tracking and management, healthcare organizations are increasingly relying on technology to provide services to patients inside and outside of their facilities. Telehealth, virtual care, clinical trial engagement, and at-home patient monitoring are just a few examples of use cases that are leveraging enterprise mobility.
Wearables for Remote Patient Monitoring 
AI-powered wearable devices for seniors – used at home or in assisted living facilities – provide peace of mind and mitigating emergencies through fall detection, location tracking, and alerts for early signs of troubles. These wearables can even be equipped with a panic button for use in case of a medical emergency to alert caregivers, first responders, or family members.
Electronic Visit Verification (EVV) Devices
Home care enables patients to receive healthcare services in the comfort of their own home, but also puts regulatory and technology burdens on the healthcare provider. A custom device purpose-built for EVV ensures HIPAA compliance is maintained and streamlines all administrative tasks for both the IT teams and nurses providing care in the field.
In-Hospital Patient Experience
Bedside tablet technology is enhancing the healthcare experience for both patients and care teams. All-in-one tablets help clinicians plan discharges, manage medication, and share lab results in accordance with regulatory and compliance requirements. These devices also include modular authentication which means that a quick, secure biometric or RFID card login facilitates ease of access to patient information and clinical workflows at the point of care.
For patients, these tablets offer easy access to personal health information, enable virtual visitations with family, facilitate meal ordering, and provide digital streaming services for entertainment. Custom features ensure a positive user-experience, such as front-facing speakers for patients in shared rooms.
Overall, enterprise mobility solutions powered by Android Enterprise offer a cost-effective option for healthcare providers seeking to automate processes and deliver a better patient experience. From assisting with vaccine dispensing to telehealth, remote patient monitoring, electronic visit verification, and care management, customized tablets, wearables, and mobility solutions are enabling the future of healthcare.
Discover more Android Enterprise Mobility solutions for healthcare by Social Mobile.


How We Built a Custom Vaccine Management Solution for VaxCare
Social Mobile developed and deployed the first ever, Google-certified vaccine management solution – a comprehensive medical device integrating a medical-grade Android tablet with an integrated barcode scanner to help improve the operational inefficiencies associated with vaccine inventory management.
GET A QUOTE.
Let's start designing your custom enterprise mobility solution.
Healthcare Mobility Use Cases