Social Mobile
Produces
Next-Generation
of RHINO
Devices for Enterprise
The new RHINO C6, RHINO T80, and RHINO T100 represent the latest generation of enterprise mobile devices from Social Mobile.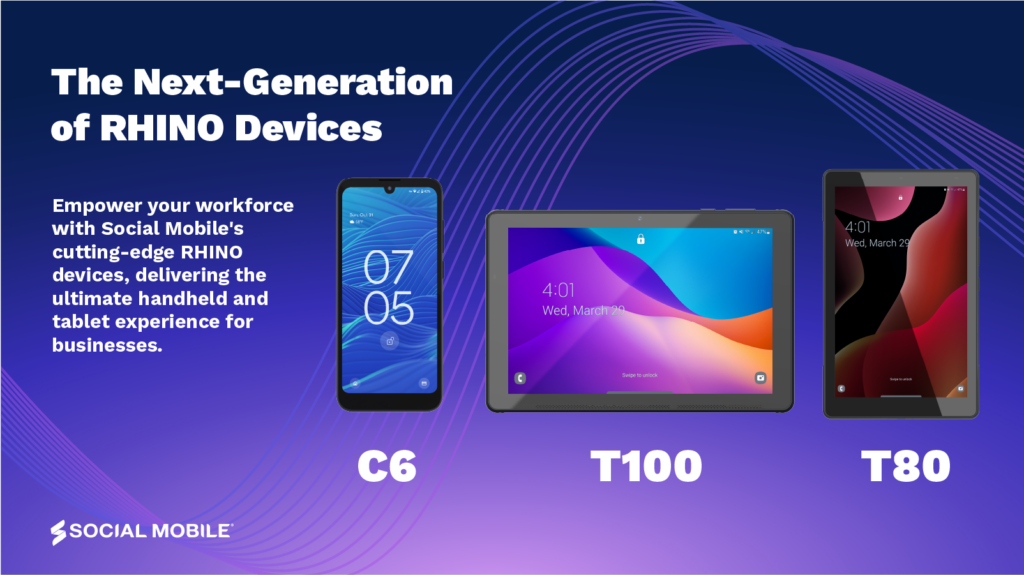 MIAMI, FLORIDA (July 31, 2023) – Social Mobile, a leader in delivering custom enterprise mobility solutions, proudly announces the launch of three innovative mobile devices: the RHINO C6 handheld, the RHINO T80 tablet, and the RHINO T100 tablet. Designed specifically for enterprise clients across various industries, including healthcare, retail, and food and beverage, these cutting-edge devices empower businesses with advanced mobile solutions to drive productivity and efficiency. 
The RHINO C6 handheld is perfect for enterprise clients who need a compact and powerful handheld for high-volume, long-term deployments. The RHINO C6 is available in 2 variants: the C6 and the C6R. The C6 base model features a fingerprint sensor for secure identity verification and access. The C6R features a removable battery to easily replace and extend the device's lifecycle.  
The RHINO T80 and RHINO T00 tablets are designed for enterprise use cases. With 8″ and 10″ screens respectively, these tablets are ideal for workers performing tasks that require more screen real estate, or as kiosks and digital signage devices. Both the T80 and T100 feature global LTE, dual SIM connectivity with eSIM support, and POGO pins for easy docking and fast charging. 
These new RHINO devices ship with Android 13, are Google Play Protect Certified, and powered by the Android Enterprise platform. And like all RHINO devices, the C6, T80 and T100 include a guaranteed minimum 3-year product availability, ensuring a steady supply for all clients. 
For more, visit www.socialmobile.com/rhino  
Built for Enterprise. Made in India. 
This announcement also marks the first mobile devices by the company to be made in India. With the new RHINO series of devices, the company expands its manufacturing footprint and embraces this emerging trend of electronics manufacturing, reinforcing India's position as a global hub for technological innovation. The RHINO devices are manufactured by Dixon Technologies, a renowned electronics manufacturer based in Noida, India, known for its commitment to quality and excellence.  
According to recent statistics, India has experienced remarkable growth in electronics manufacturing, with a staggering 40% increase in production over the past two years alone. This significant growth is a testament to India's evolving ecosystem, offering a conducive environment for companies like Social Mobile to produce high-quality IoT products and meet the demands of an expanding market. 
Innovating with Qualcomm®  
As a part of this exciting launch, Social Mobile has collaborated with Qualcomm Technologies, Inc., a pioneer in wireless technologies. The new RHINO devices boast the powerful Snapdragon® 680 Mobile Platform, marking the first collaboration between Social Mobile and Qualcomm Technologies.  
President of Qualcomm India, Rajen Vagadia, shared his thoughts on the association, saying, "We are delighted to collaborate with Social Mobile on their RHINO portfolio. By integrating Snapdragon processors, these devices will provide enterprise clients with unmatched performance, power efficiency, and productivity, enabling them to thrive in today's fast-paced business landscape." 
Jai Rao, Chief Product Officer at Social Mobile, expressed enthusiasm for this new milestone, stating, "The updated RHINO portfolio represents a significant leap forward for our company. With our expansion into India and the adoption of Snapdragon processors, we are poised to deliver exceptional mobile solutions to our enterprise clients. These devices will empower businesses across industries, revolutionizing the way they operate." 
These new RHINO devices are set to revolutionize mobile computing for enterprise. With their advanced features, state-of-the-art technology, and commitment to excellence, Social Mobile's RHINO portfolio is poised to become the go-to choice for businesses seeking true enterprise-grade mobile solutions. 
Media Relations Contact: 
Christian Paul
Director of Marketing
marketing@socialmobile.com 
About Social Mobile 
Social Mobile is an enterprise mobility solutions provider who designs, engineers, and manages custom mobility solutions for clients in all industries from healthcare to retail to defense. Our team of certified Android Enterprise experts work to deliver a fully custom mobility solution that includes hardware, software, managed mobility services, connectivity, and more. 
To learn more about Social Mobile, visit: www.socialmobile.com | Twitter: @socialmobile_ | LinkedIn: www.linkedin.com/company/socialmobile | YouTube: @socialmobile 
Snapdragon is a product of Qualcomm Technologies, Inc. and/or its subsidiaries 
GET A QUOTE.
Let's start designing your custom enterprise mobility solution.