Android Zero-Touch: An Android Enterprise Recommended Solution to Manage and Secure Your Devices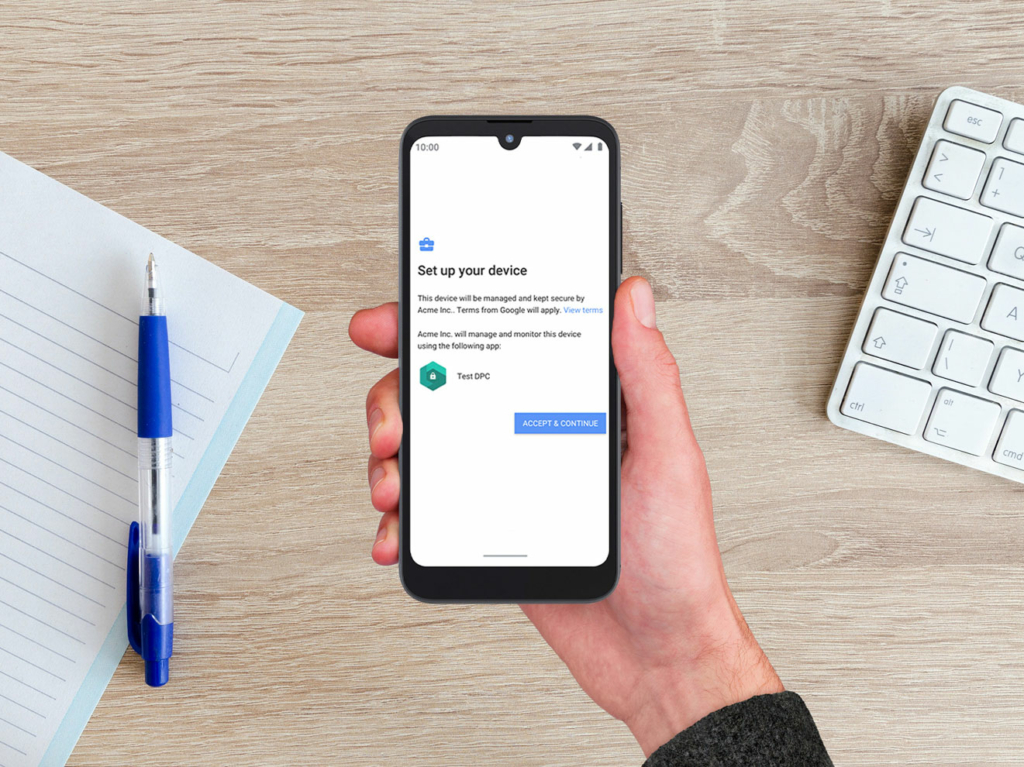 Android zero-touch is a powerful out-of-the-box provisioning tool that enables organizations to quickly, easily, and automatically set up Android devices for automatic enrollment into their EMM of choice. As an Android native solution, it ensures that devices are configured correctly from the moment they're taken out of the box and enables remote management to keep devices up-to-date and secure. In this article, we will explore the features and benefits of Android zero-touch and how it can help organizations streamline their device provisioning process and improve security.
What is Android Zero-Touch?
Android zero-touch is a provisioning method, like QR codes, NFC, and DPC identifiers, but also similar to Knox Mobile Enrollment for Samsung devices or Device Enrollment for Apple devices, and lets companies easily and automatically set up Android devices for out-of-box enrollment into an approved EMM (Enterprise Mobility Management) service. It takes the headache out of remote provisioning by pre-assigning enterprise devices to an EMM before they arrive at employees' doors and therefore allowing IT administrators to establish corporate policies and settings on devices without having to be hands-on with each device individually, allowing for a seamless and efficient device setup process. This ensures that devices are properly configured and secure from the moment they are received by employees.
Benefits of Android Zero-Touch Enrollment
One of the key benefits of Android zero-touch is that it allows organizations to deploy devices quickly and easily. With zero-touch, IT administrators can create and manage device profiles for different types of users and devices, and then apply these profiles to devices before they are shipped. This means that devices can be shipped directly to users without the need for staging, which involves IT or a third-party logistics company turning on the device, enrolling it into the EMM, configuring the settings, installing apps, and more. This can add significant costs to device setup. Zero-touch then saves a significant amount of time and resources and allows organizations to get new devices into the hands of employees faster and at a lower cost.
Android zero-touch is a provisioning solution that enables IT administrators to enroll devices into an enterprise's mobile device management (EMM) system without any IT interaction, adding another layer of security. If a device is stolen, the thief will not be able to reset the device and unenroll it from the EMM permanently. This is due to the device being locked to the enterprise, with only IT administrators having the capability to unregister it.
Where can you purchase zero-touch devices?
Every Android device running 9.0 or later is compatible with zero-touch, but the devices must be purchased from an approved reseller in order to leverage zero-touch.
Social Mobile is a zero-touch reseller
Social Mobile has collaborated with Google and Android for many years. We were thrilled when zero-touch was officially released for 8.0+ devices in 2018 and promptly incorporated it into our offerings. All devices obtained through Social Mobile are eligible to be added to the zero-touch console. If our clients do not have a zero-touch console, we can establish one during the ordering process, allowing customers to set up configurations and deploy devices before delivery. For those in need of additional support, we provide guidance on creating and managing configs, walk customers through the customer console, and offer training to ensure they are proficient in managing devices in the future.
Discover how Social Mobile embraces Android zero-touch
Which EMMs support zero-touch enrollment?
Almost every EMM on the market today will support zero-touch, but it's worth checking with your chosen EMM provider to validate before adjusting processes to leverage it.
Mambo EMM is our preferred partner, is cost-effective, and can complement our RHINO or custom devices well for clients who do not have existing EMM solutions in place. Furthermore, our solution, built on the Android Management API (AMAPI), offers immediate support for new releases.
Which Android devices are supported?
Every Android device on the market that is version 9.0 or later and Play Protect (previously known as GMS) certified will support zero-touch enrollment.
RHINO Portfolio
RHINO specializes in Android hardware made for enterprise, offering a comprehensive portfolio of devices to meet the needs of customers ranging from small businesses to global enterprises. All our devices are Play Protect certified and come equipped with standard zero-touch support, as well as full compatibility with Android Enterprise. We also ensure that our devices align with Android Enterprise Recommended requirements and recommendations, wherever possible, as per our customers' requirements. Our devices run on the latest, bloat-free version of Android and make bulk deployment a breeze with built-in support for Android Zero-touch enrollment.
Check out our RHINO product lineup and features
Custom Android Enterprise Hardware
Social Mobile also specializes in designing and manufacturing custom, enterprise-grade hardware that is not only secured and managed with Android Enterprise, but also supports zero-touch enrollment. Our team of certified Android Enterprise Professionals will guide you through the product development process to create a purpose-built device and mobility solution just for your business and use case. This includes zero-touch enrollment and all its benefits from security to easy deployment.
GET A QUOTE.
Let's start designing your custom enterprise mobility solution.