Why America Needs to Embrace Mexico As Its New Manufacturing Hub
As countries from around the world invest billions into achieving chip sovereignty, we are uniquely positioned to create a world-class value chain on our own continent.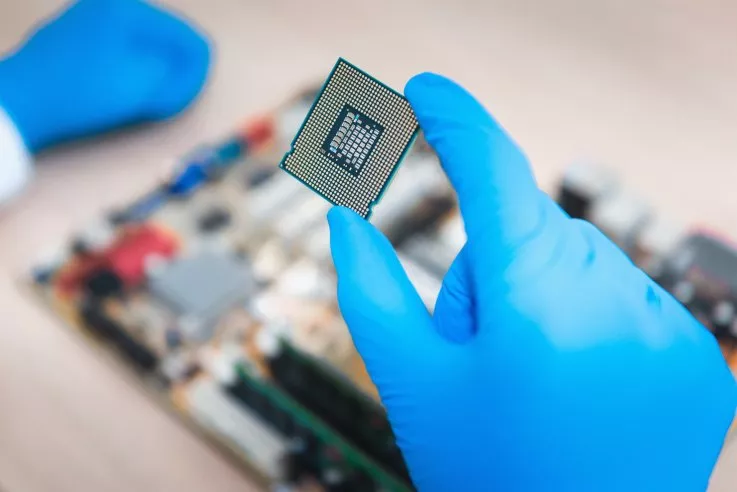 America has been living in a bubble. For decades, our smartphones and devices have been heavily subsidized by Chinese manufacturers, who've managed to run a perfect supply chain while profiting from economies of scale.
Now, in light of geopolitical tensions and supply chain disruptions, that bubble could burst.
For context, a typical mobile product has 300 parts, many of which are made from materials found exclusively in specific countries. From the central processing unit to the camera and microphones, materials from around the world are required to make a smart device. The U.S. has invested billions into the creation of a domestic supply chain for smart products through the CHIPS and Science Act. But making all of the hundreds of parts that go into a single mobile device solely on U.S. soil is more of an aspirational utopia than it is a reality. The cost of labor, land, and environmental policies would make it near impossible to produce an affordable device at scale.
The reality is that for the U.S. to decouple from China, it needs access to a manufacturing hub with close geographic proximity, affordable skilled labor and solid free-trade agreements: It needs Mexico.
As the global chips race heats up, there's an opportunity for the U.S. and Mexico to form a strategic alliance that could strengthen both countries' economies and security for generations to come.
Securing a Smart Supply Chain for Generations
The U.S. is still the world's leader in semiconductor design, controlling about 85% of the global market — for example, NVIDIA, a U.S.-based semiconductor design company, recently tripled its stock in less than eight months, reaching a $1 trillion market valuation. Demand for its chips, which are fueling the artificial intelligence boom, has grown significantly.
It's the manufacturing and assembly of smart products that are widely outsourced to Asia. A strategic partnership with Mexico would allow the U.S. to increase its domestic design and engineering of semiconductors while funneling the lines of assembly and manufacturing south of the border, for a fraction of what it would cost on U.S. soil.
Creating this kind of continental alliance could give the U.S. the competitive advantage it needs to ramp up its domestic production of chips. While many of the fundamentals for a strategic partnership exist, execution needs to be exacting and swift. Last month, industry and cabinet leaders from across the U.S., Mexico, and Canada met in Washington for the first North American Semiconductor Conference to discuss building a continental value chain for semiconductors and reducing imports from Asia by 25%.
Spearheaded at the 10th annual North American Leaders' Summit, the trilateral semiconductor forum is a step in the right direction, but it didn't produce the actionable outcomes needed to accelerate the process.
The announcement of a high-tech park area with tax breaks or an exclusive trade deal, for instance, would have ensured a clear plan and actionable timeline are underway. Likewise, a government-initiated request for information from small businesses to solicit how startups can be best leveraged for the value chain would've introduced much-needed consultation between government, veteran, and emerging industry players.
A Small Window for Chip Sovereignty
Despite Mexican President Andrés Manuel López Obrador's stated commitment to reducing imports from Asia, the U.S. also faces competition on the ground in Mexico.
Soaring shipping rates and COVID-related shutdowns in China have propelled many multinational companies to open up manufacturing facilities in Mexico in the last few years. Foreign investment in Mexico reached $32.1 billion in the first nine months of 2022 — the greatest increase for that period in nearly a decade.
According to the Confederation of Industrial Chambers, more than 400 companies have shown an interest in moving production from Asia to Mexico as of December 2022. As intelligent and skilled companies from Asia set up shop in Mexico, the window for the U.S. to truly decouple from China's supply chain is closing. If the U.S. doesn't act fast, it could lose the sovereignty it's looking to gain within the continent.
Mexico, however, has just as much to lose. As the second-largest supplier of electronic parts to the U.S., Mexico has an opportunity to take the leading spot from China and increase its current exports of more than $75 billion in tech products to the U.S. every year. The U.S. smartphone market is the third largest in the world, with 97% of Americans owning a smartphone. Three-quarters of U.S. adults also own a desktop, laptop, or tablet computer, and nearly 60 million households were actively using smart home devices as of 2023.
As an emerging country, servicing the vast U.S. market is the perfect opportunity for Mexico to increase its wealth and create a middle class for generations to come.
Recreating China's Manufacturing Blueprint
Today, China is the "world's factory" — employing 100 million people in manufacturing alone, but prior to its economic reform in 1978, China relied heavily on agriculture as its primary industry.
When China began its pivot into manufacturing, assembly lines, procurement, and supply chain management existed, but not to the exquisite scale it has since perfected.
China has written the playbook on how to create a world-class manufacturing hub — a valuable model for countries like Mexico wanting to ramp up manufacturing capabilities. With an investment in the right training and education from industry experts, Mexico with its young population and dynamically skilled labor force is perfectly positioned to reproduce China's manufacturing success.
As of now, no one country has the end-to-end capabilities for semiconductor design and manufacturing at scale, but that could change if the U.S. and Mexico play their cards right.
This could be a turning point for North America. As countries from around the world invest billions into achieving chip sovereignty, we are uniquely positioned to create a world-class value chain on our own continent, but only if Biden and Obrador prioritize a strategic partnership.
Content from this post was originally featured in Newsweek.
GET A QUOTE.
Let's start designing your custom enterprise mobility solution.