U.S. Healthcare Systems Should Adopt Rapid Innovation Hubs
The creation of innovation hubs in healthcare to rapidly prototype emerging tech in areas like wearables and telemedicine can not only save healthcare systems billions of dollars, but improve outcomes for all involved.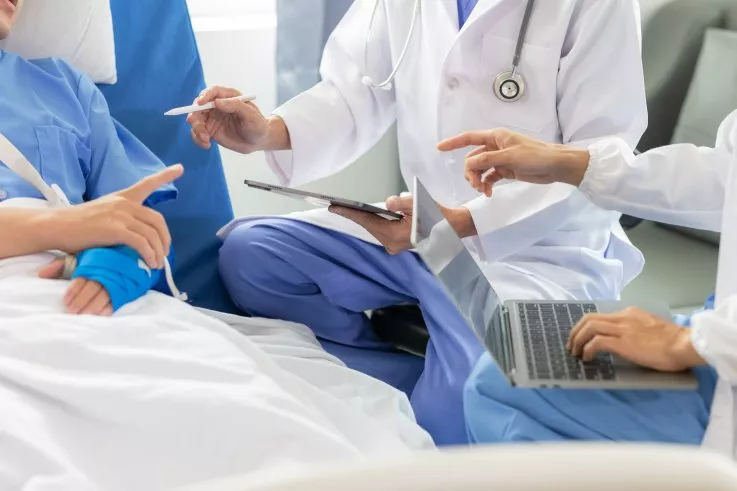 The U.S. healthcare system has long been criticized, at best for being complicated and expensive — at worst for being draconian and broken.
The critiques aren't unfounded. A recent study showed the U.S. spends more on healthcare than any other high-income country in the world, yet has the highest rate of patients with chronic disease and the lowest life expectancy at birth.
But there's a shift happening at the intersection of health and technology, accelerated by the pandemic. Smart technology is solving complex and widespread issues from glucose monitoring to vaccine distribution with cost-effective solutions and newfound efficiencies.
As these new technologies emerge, however, America's healthcare systems are at risk of losing billions of dollars if they don't keep up with the pace of innovation. Here are three areas healthcare systems should watch as we enter the next era of medtech.
Rapid Innovation Testing Hubs
Despite the rapid development of new technology to address medical pitfalls, U.S. healthcare systems have been notoriously slow to adopt new technology. When you consider national health expenditures in the U.S. reached $4.3 trillion or $12,914 per person in 2021, reducing the cost of patient care by a single percentage point can potentially save millions of dollars. This is a massive missed opportunity. It's not practical, of course, for lumbering healthcare systems to innovate on their own — there's a reason they buy emerging tech from companies that specialize in innovation — but healthcare systems can stress test emerging tech in-house more rapidly.
The creation of rapid innovation hubs designed to fast-track testing and pilot new technologies in-house has the potential to promote better patient outcomes, ease stress for healthcare workers, and save billions of dollars.
Look no further than the advancement of continuous glucose monitoring — an industry projected to grow to $31.34 billion by 2029. Up until recently, healthcare systems invested hundreds of millions in Bluetooth-powered monitoring systems to provide preventative care for the one in 10 Americans living with diabetes.
Insulet, an innovative medtech company, identified monitoring systems could be more cost-efficient and convenient if read through an Android-powered app that connects to a wearable insulin pump. This single innovation has undoubtedly helped the company win a sizable chunk of the market share—Insulet recently replaced Silicon Valley Bank Financial Group on the S&P 500. With the introduction of rapid innovation hubs, healthcare systems would be better positioned to adopt this kind of cost-saving technology more efficiently.
Lessons From Silicon Valley
With an expanding population of over 330 million, stress on the U.S. healthcare system is only expected to grow and the pressure is on to improve costs and patient outcomes through innovation.
Universities like Harvard Medical School and the University of Pennsylvania are leading the way in creating innovation centers that are drawing lessons from Silicon Valley, with accelerator programs and pitch competitions that reward winners with mentorship and funding.
If designed with a business-first mindset, these innovation hubs have the potential to reduce non-recurring engineering costs — the money spent as a one-off cost on new product development, time to market, and the chances of products ending up in the "valley of death." They can also significantly reduce prototyping costs.
Wearables
Just look at the growth in wearable medical devices — the global market was valued at more than $27 billion in 2022 and is expected to reach over $196 billion by 2030. This emerging tech is providing invaluable data and flexibility to healthcare providers, allowing for new forms of patient care such as remote patient monitoring and aiding in the early detection of disease. As such, medical researchers are discussing everything from on-teeth sensors to smart contact lenses and electronic epidermal tattoos.
However, healthcare systems have been slow to customize wearables to meet the varying needs of their patients. Adding to the slowdown are lengthy Food and Drug Administration approvals — it can take three to seven years for a new medical device to get FDA approval. In fact, the FDA recently announced it was seeking $11.6 M in funding to improve its medical device supply chain.
With the introduction of rapid innovation hubs, healthcare systems would be better positioned to pilot the customization of wearables to meet a patient's individual needs. This could help empower patients to utilize the technology more fully, leading to more accurate data collection and opportunities to inform care plans.
At-Home Care
Innovation hubs could also help healthcare systems pivot to meet the growing demand of at-home care. The global home healthcare market size was valued at $362 billion in 2022 and is expected to reach $666.9 billion by 2030.
The pandemic served as a global stress test for the viability of at-home healthcare. Virtual medical visits rose by 11,000% over pre-pandemic levels in the early weeks of the pandemic. And as healthcare workers and patients alike discover new benefits like increasing access to care in rural and underserved areas, the shift to telehealth is showing no signs of slowing down.
To support the shift to remote care, healthcare systems need to first crack the code on implementing innovation hubs: this requires identifying key technology partners to create an ecosystem of products that can be utilized system-wide.
By increasing the production of viable technology, healthcare systems can reduce costs by leveraging economies of scale. It's worth noting that this is the same model many healthcare cooperatives use, which could work in partnership with innovation centers.
Stakeholder fragmentation, competing interests and regulatory hurdles haven't positioned healthcare systems well to directly innovate on the technology they use, but they can increase the pace at which they adopt it.
The creation of innovation hubs in healthcare to rapidly prototype emerging tech in areas like wearables and telemedicine can not only save healthcare systems billions of dollars, but improve outcomes for all involved.
Content from this post was originally featured in Newsweek.
GET A QUOTE.
Let's start designing your custom enterprise mobility solution.