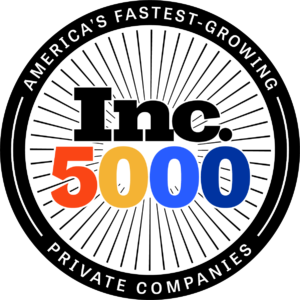 Social Mobile Named one of the Inc. 5000 Fastest-Growing Companies in America
Today we're more than proud to share that Social Mobile has been named as one of the Inc. 5000 fastest-growing private companies in America for 2022. The list ranks companies based on revenue growth from 2018 to 2021, and includes some of the biggest brands in the enterprise and consumer space.
So where did we rank? Social Mobile placed…
#1,306 overall with revenue growth of 498%,
#128 in the Business Products & Services category,
#108 in the state of Florida,
…and #51 in the Miami metro area
Social Mobile Founder & CEO, Robert Morcos, adds:
I am honored to announce that Social Mobile has landed a coveted spot on the annual Inc. 5000 list of the fastest-growing private companies in the nation. This is another testament to the continued hard work and dedication of our team. Next step? Keeping our name on the list for many years to come!