Social Mobile CEO Named Google's Solution Innovator of the Year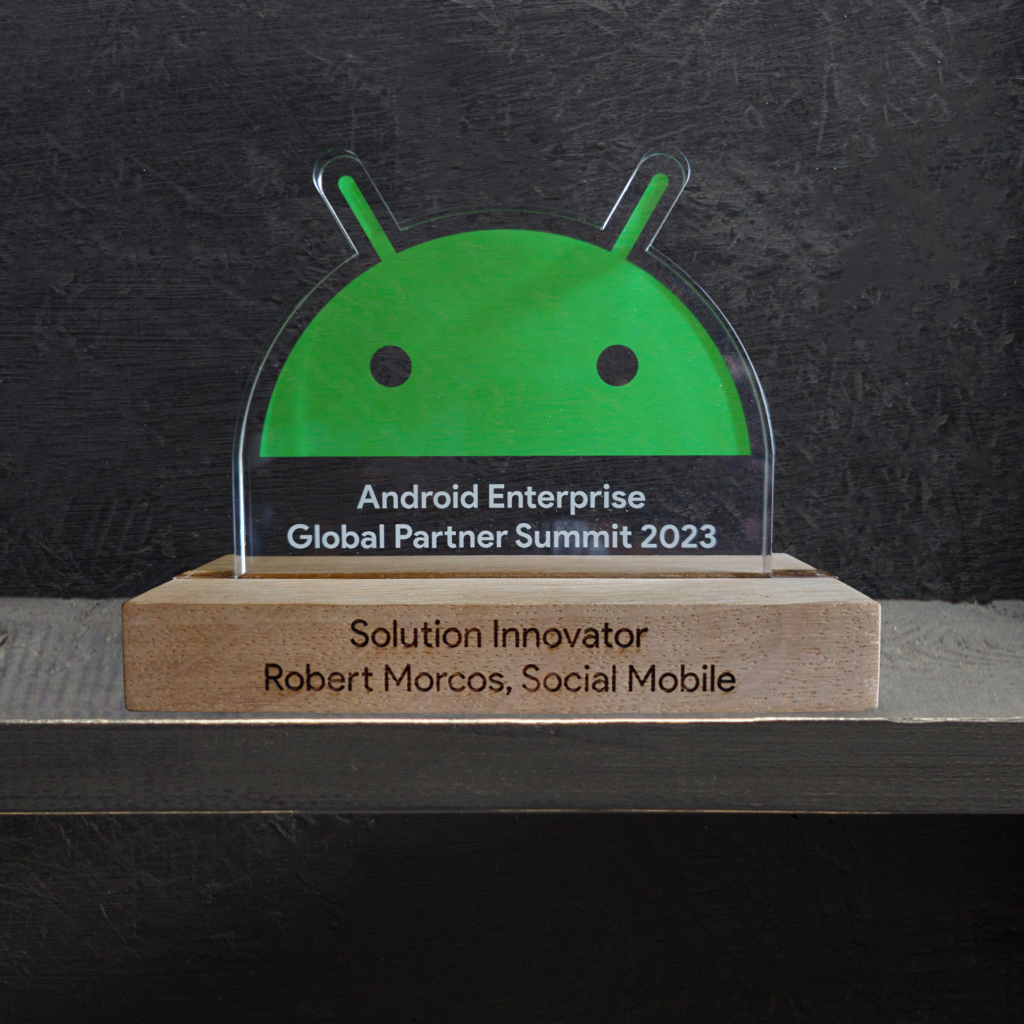 MIAMI, FLORIDA (June 6, 2023) – Social Mobile, a leader in delivering custom enterprise mobility solutions, is proud to announce that its CEO and Founder, Robert Morcos, has been awarded the prestigious title of "Solution Innovator of the Year" by Google's Android Enterprise team. This recognition comes as a testament to Robert's contributions to the Android Enterprise ecosystem and commitment to delivering exceptional solutions to clients. 
The Solution Innovator of the Year award from Google is bestowed upon partners who have demonstrated outstanding innovation and impact within the Android Enterprise ecosystem. Robert's relentless pursuit of excellence and pushing boundaries in the industry have earned him this distinguished recognition. 
This accolade underscores both Robert's and Social Mobile's position as a true pioneer in the enterprise mobility sector. They were the first Google partner to be awarded an EDLA (Enterprise Devices Licensing Agreement) license, are one of the few Play Protect certified (formerly GMS or Google Mobile Services) Android partners, designed the first ever Play Protect certified vaccine management system, and have shipped over 11 million devices globally to-date. 
Robert expressed his gratitude for the recognition, stating, "Winning the Solution Innovator of the Year award from Google is a tremendous honor. As the CEO, I'm responsible for creating our overarching strategy, but it takes my entire team's effort to implement and execute that strategy. This award reflects their hard work, passion, and dedication to the company vision. Their remarkable passion to keep driving industry changing innovation with new form factors continues to amaze me. We are proud to be acknowledged for our commitment to innovation and for the positive impact we have on our clients' businesses."
As the industry leader, Social Mobile continues to raise the bar by developing groundbreaking mobility solutions that empower enterprises to thrive in an increasingly mobile-first world. This award further solidifies their position as a trusted partner and underscores their relentless pursuit of excellence. 
About Social Mobile 
Social Mobile is an enterprise mobility solutions provider who designs, engineers, and manages custom mobility solutions for clients in all industries from healthcare to retail to defense. Our team of certified Android Enterprise experts work to deliver a fully custom mobility solution that includes hardware, software, managed mobility services, connectivity, and more. 
To learn more about Social Mobile, visit: www.socialmobile.com | Twitter: @socialmobile_ | LinkedIn: www.linkedin.com/company/socialmobile | YouTube: @socialmobile 
Media Relations Contact: 
Christian Paul
Director of Marketing
marketing@socialmobile.com 
GET A QUOTE.
Let's start designing your custom enterprise mobility solution.