Employee Spotlight: Hitesh Ambulkar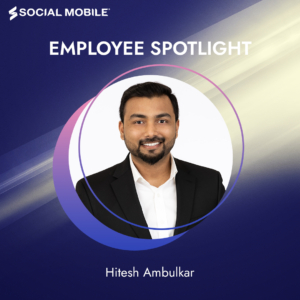 We're excited to announce our first of many employee spotlight series.
Social Mobile would not be the company it is today if it weren't for the G.R.I.T of our team, and we want to recognize those who play a pivotal role in our success.
Join us in celebrating our first shoutout, Hitesh Ambulkar, who has been part of the family for 4 years and has grown into a phenomenal leader who is instrumental to our organization.
Get to know Hitesh with his Q&A below.
What is your favorite quote?
"If the ladder is not leaning against the right wall, every step we take just gets us to the wrong place faster." -Stephen Covey
What advice would you give to someone wanting to join the tech industry?
Always be kind, but be bold in your decisions. Build a great team, put your head down and work. Always make an effort to familiarize yourself with the latest technological advancements and innovations. In tech, each day is challenging. Be ready for a lot of complex problem-solving. It's important to surround yourself with like-minded people to grow exponentially.
How would you describe our company culture?
Social Mobile has an organizational culture for top-notch excellence and creative innovation. The company's culture focuses on maintaining a mindset that the company and every individual can grow and learn by trying amazing things.